Hi, this will be my 1st ever online tutorial so please go easy lol.
Parts needed
M5 Nylon Washers
M5 Countersunk screws (I used 10mm length)
Masking tape
Thermal paste remover - or I use a small amount of Cif (cream cleaner) on a rag then rubbing alcohol to remove any residues. Works out 100x cheaper and so long as u clean with the alcohol I can't see it being a problem.
Carefully scrape the dried on thermal paste of with a wooden or plastic toothpick.
I'm not going to show you how to strip the Xbox down to the motherboard or even remove the xclamps, to be honest after the 1st time I tried myself after getting the case undone its quite straight forwards. If not there's some really good youtube vids out there. Removing the Xclamps are a little tricky but easy when u know how, watch some vids
You want the chips Die (shiny part) mirror finish as best to transfer the heat. I've applied no clean flux to the connections on and around the chip, i also put some flux on the bottom of the board underneath the CPU and GPU. I like to carefully remove any excess thermal paste from around the chips as Microsoft tends to put far too much on lol.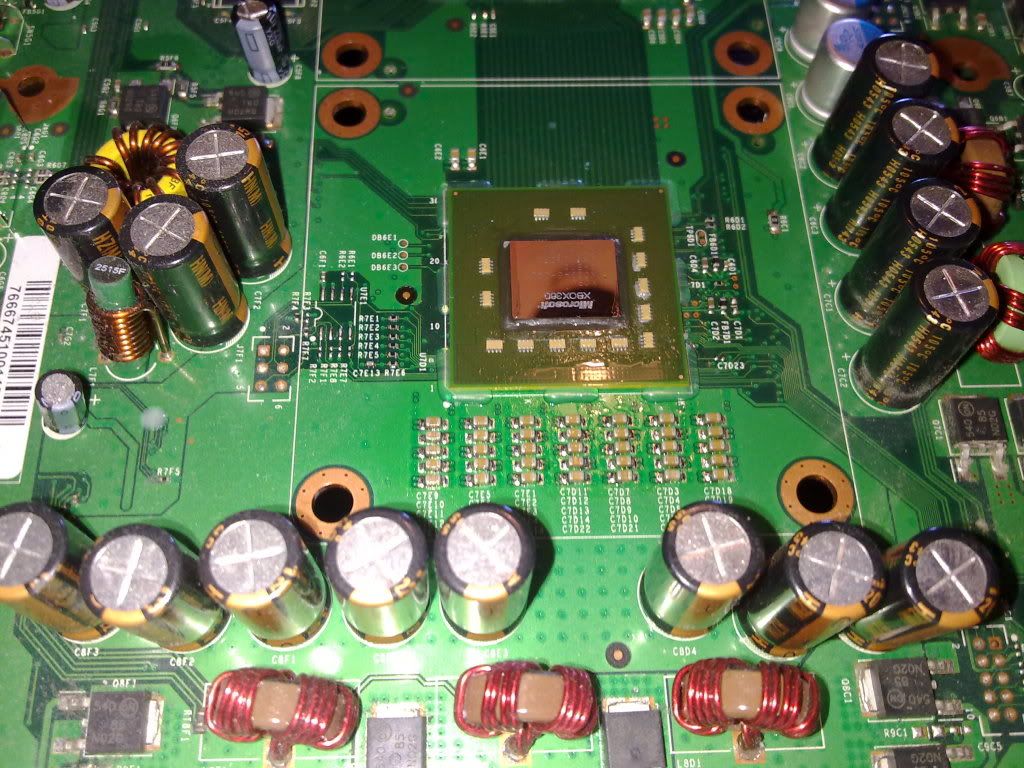 Nylon M5 heat treated washers £1 for 100 on ebay to protect the motherboard.
I use M5 (10mm length) countersunk screws just because they are a little bit more low profile than the cheese head M5's I've seen. Masking tape to hold in place when you flip the board back over.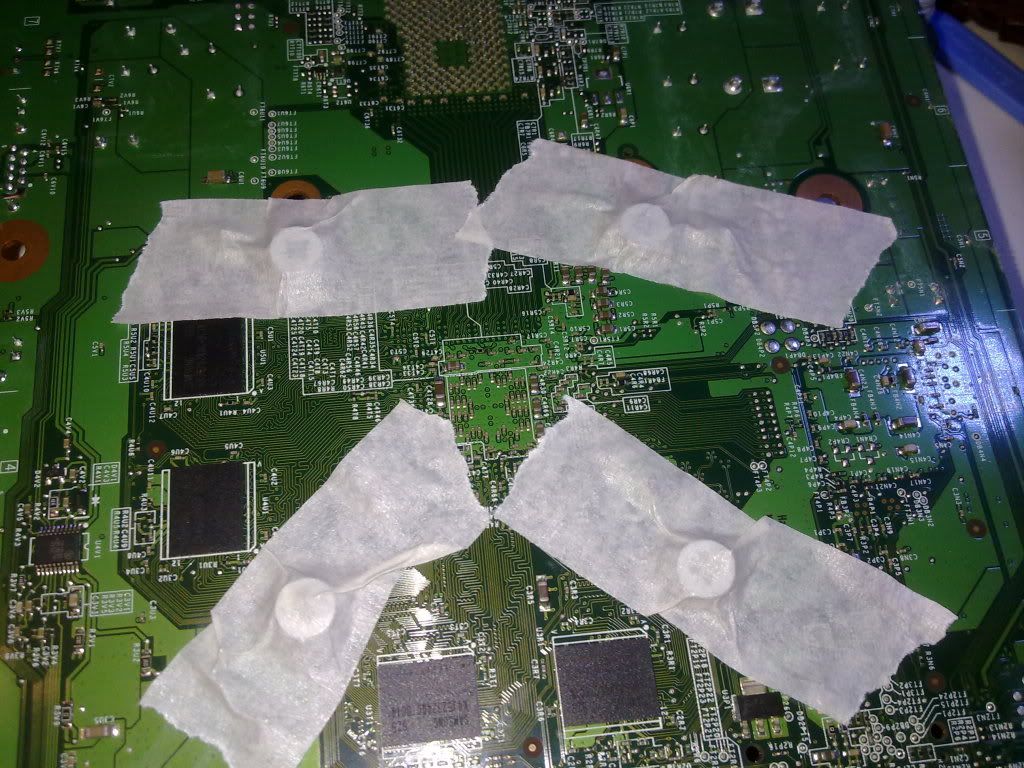 Nylon washer again to protect the board. You can see the flux, a little in this pic, not a lot is needed, just around the connections. No clean flux is important (pen in background).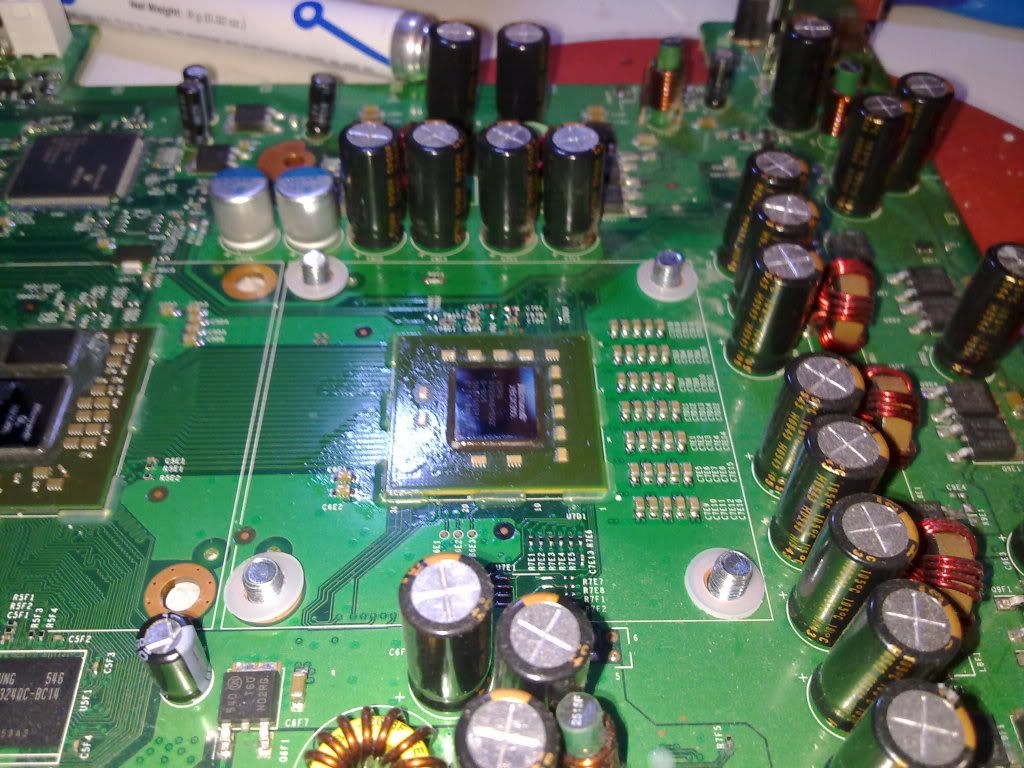 M5 washer and a THIN layer of thermal paste. Arctic Silver or similarly as expensive stuff. Pay for what you get in my opinion. My one come with a cool handy little brush (like nail varnish style pot)and contains silver and carbon and roughly the same thermal conductivity of Arctic Silver.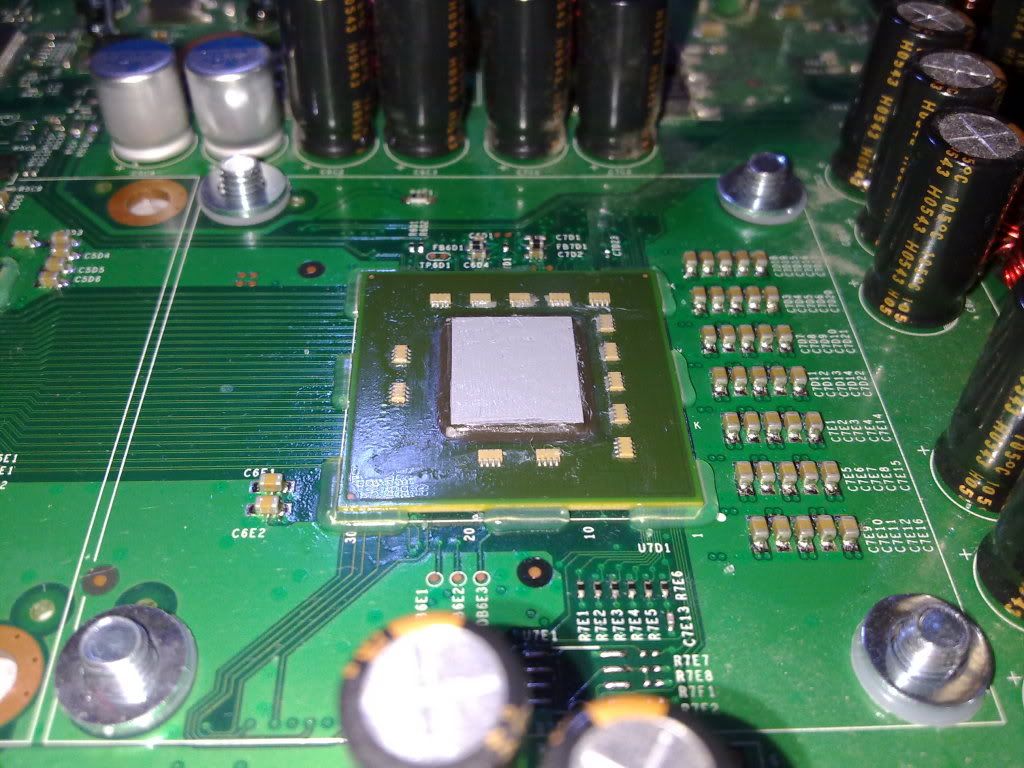 Remove the bolts that are in the heatsink with a pair of plyers and clean the heatsink well.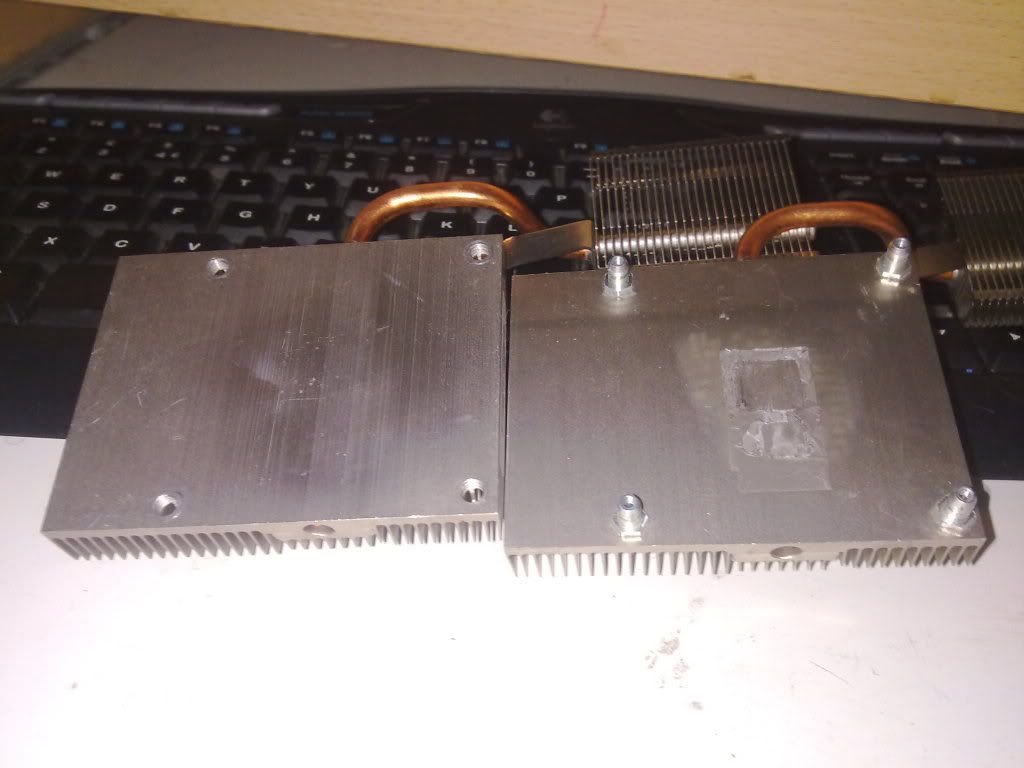 When your tightening down the screws do it a little at a time on each one and move to the next screw, don't do one all the way up and move on to the next as it will be uneven' possibly breaking something.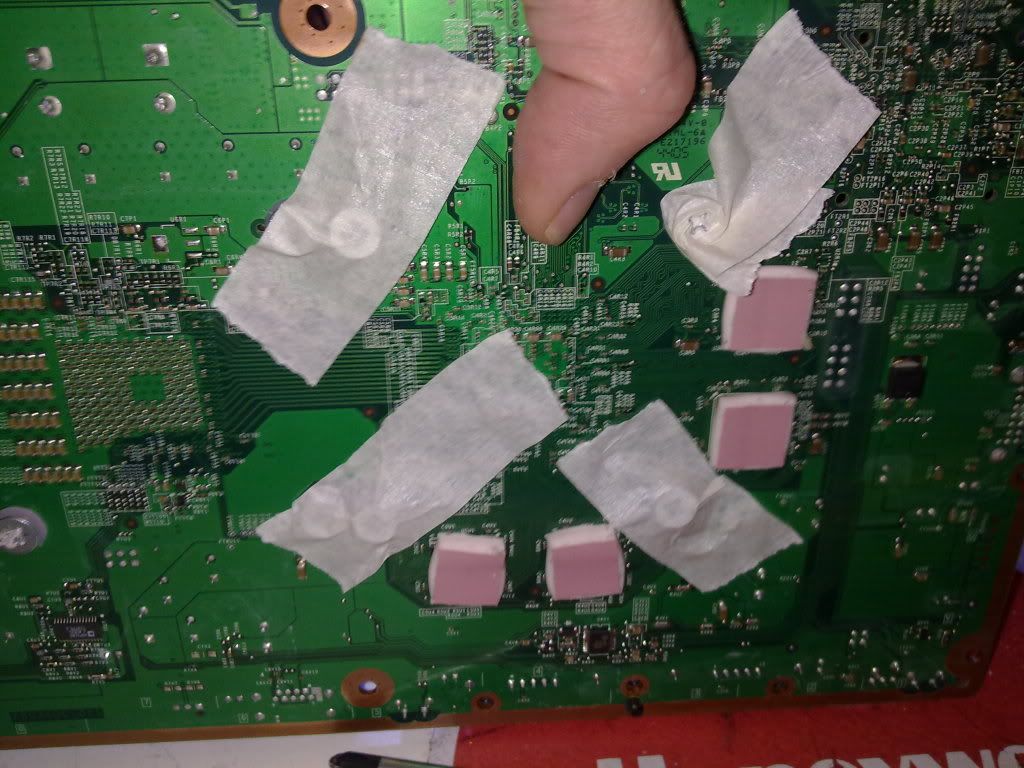 Don't animal the screws down nearly breaking your wrist or the board, it's only going to break something. You need it tight but not to tight, you should know when you're doing it enough, it becomes harder to tighten. There is variable thickness in washers so if yours are slightly thinner than the chip and Die then you could be applying a lot more force than that's needed.
This is the line up of the screws and washers, the cotton bud (q-tip) is representing the xbox motherboard.
Sometimes just by tightening down the screws it fixes the RROD but it normally breaks fairly quickly again sometimes an hour to a few days of play. The key to a longer lasting fix, semi permanent, is to overheat the GPU until the secondary GPU heatsink is "burning your finger hot" and leave it like that for about half hour. Some Xbox's heat up quicker than others.
The key to putting the fans above the CPU and blocking the GPU from cooling is that I read that the overheat measuring part is done CPU side not GPU so cooling like shown below really gets the GPU hot. DO NOT KEEP YOUR FINGER ON THE HEAT SINK FOR LONG AS IT WIL SCALD. (one of them infrared thermometers might be an investment lol)
Leave to cool completely 15-20mins with extra fans or 30-45 without. I just unplug the cable from the wall, not to touch the Xbox when it's hot kind of thing, don't move it lol.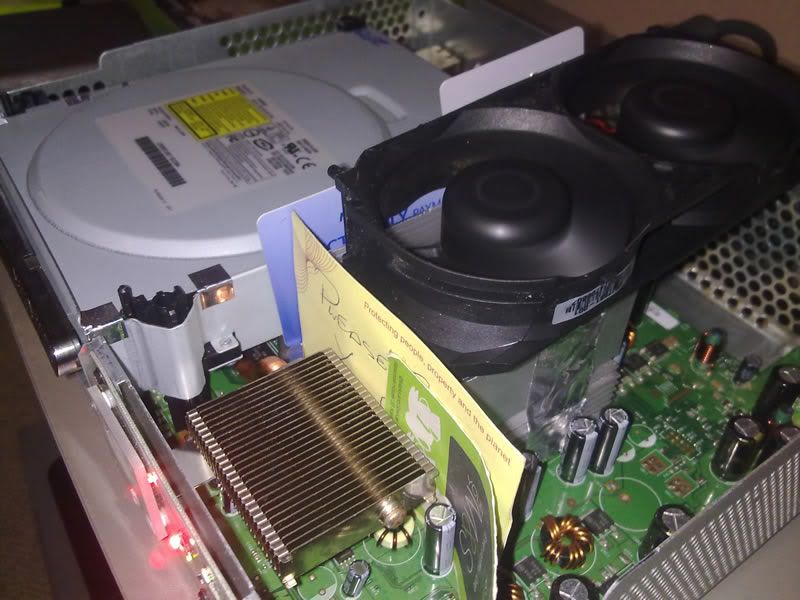 Afterwards I like to apply aluminium tape to the heat sinks to direct the flow down the fins of the heatsink. I always thought that this worked well but its proved, tried and tested now I can see the temps on xexmenu, try it for yourself
the extra 40mm fan also helps cool the GPU as a fair amount of heat passes up the copper tube.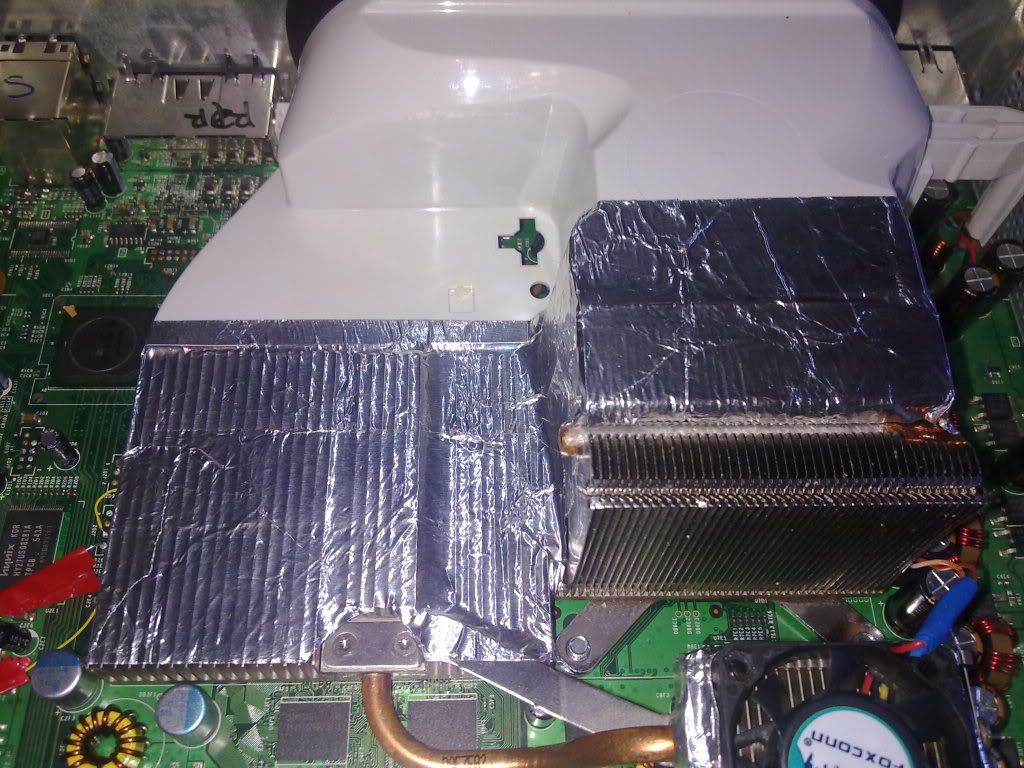 (run out of black shrink tubing, that mess of red tape has been sorted, just there temporary to stop shorts where there not wanted lol)
My final word.
12v fan mod's are a must on RROD fixes as the reason they broke in my guess is that they got to hot in the 1st place. If you want my advice, don't be taking your power from the DVD drive, a sure fire way to break something.
There's a good software modding site I visit and i found this guide on sourcing power from the Xbox motherboard.
http://forums.xbox-scene.com/index.php?showtopic=613160
I take my power directly under the power source where it's coming in. I solder a fan connector to the board then connect my fans to that. Many ways to skin a cat obviously, that's mine.
Hope this helps, please ask any questions
Tim
Please feel free to add comments to help better everyone's knowledge